With the new restaurant concept, almost every table becomes a temple of culinary delights. We serve with plenty of room for enjoyment to all the most beautiful places of the Rote Wand. Around the fireplace, in the lounge, in the Stuben, to the wine racks and more. Here you can enjoy your breakfast, lunch, your dinner menu or a few fine snacks in between with plenty of space as a side dish.
Breakfast without having to get up
Where would you like your breakfast served? Fireplace, lounge or Stuben?
The Rote Wand team pampers its guests with even more service in the morning. You don't have to serve yourself from the buffet, we'll serve you! With everything you enjoy in your morning to tingle your taste buds, and a little bit more. Coffee brewed freshly at the table, delicious muesli varieties, breakfast creations you can combine yourself and more bring tasty variety for an unparalleled start in the morning.
Everything else your heart desires, we will be happy to serve you at your breakfast table.
Perfect drinks and culinary snacks, cordially served at your table, always with style.
Those who have become hungry from hiking, skiing or simply from the fresh air can choose perfect drinks and fine snacks from the bistro menu for an extra charge in the new lobby restaurant.
Our bar chef Christian is looking forward welcoming you!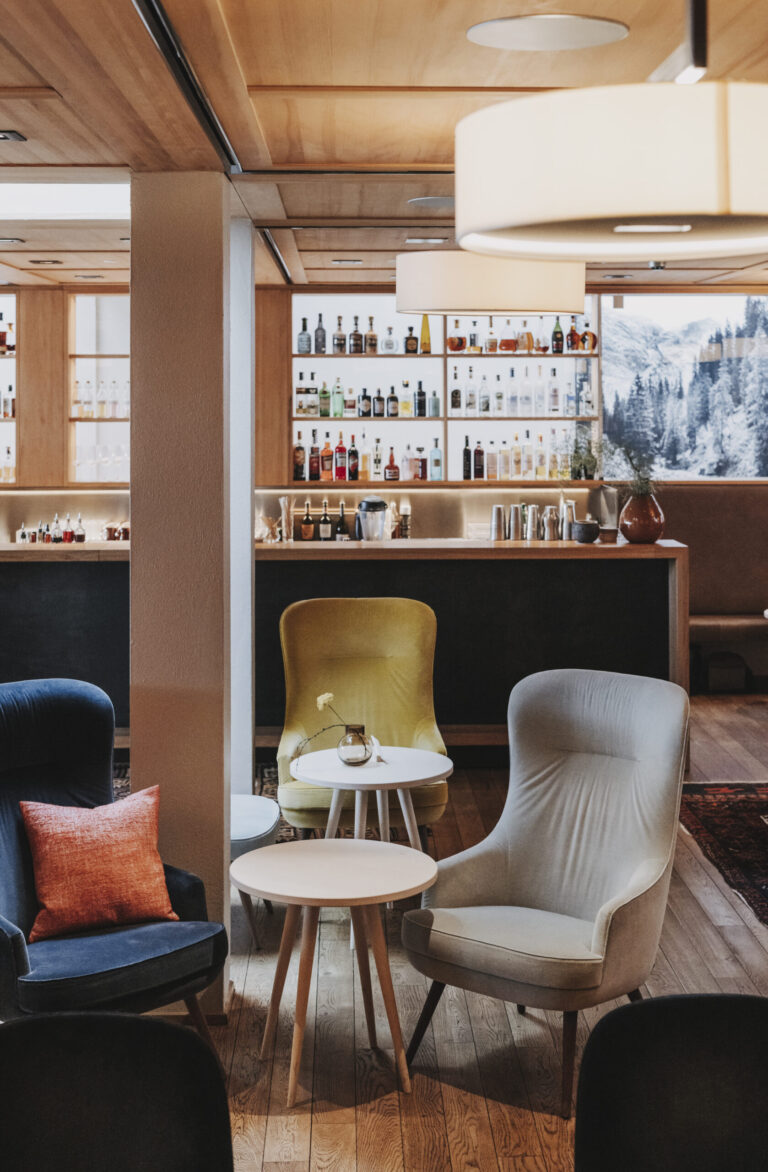 Your place in the sun – fantastic view and relaxation included.
Take a seat in one of the most beautiful places in all of Zug: on the sun terrace of the Rote Wand Gourmet Hotel. Enjoy your snacks and drinks while the sun gently warms you and your gaze wanders over the summer and winter heated outdoor pool to the nearby Madloch. Yes, this is the place to be.
Winter Gourmet Tip: We are happy to serve you the genuine Rote Wand cheese fondue with selected cheeses from cheese sommelier Caspar Greber at noon on our sun terrace. Simply pre-order at breakfast and enjoy already at noon.
Gourmet Dinner Menu
The highlight for our guests is the dinner gourmet menu of the Rote Wand kitchen team, which can be booked for an additional charge.
NEW.
For more space, comfort and safety, we have divided our dining times into several seatings. We serve our gourmet evening menu daily at various locations throughout the hotel – the fireplace room, around the lounge and in the Rote Wand Stuben. All guests are brought to their table and served there.
In addition, our handmade tables of local sycamore maple and oak are no longer completely laid, but a cutlery box, which was also specially made for this purpose by our carpenter from the Montafon with local wood, is placed in the middle of the table. In addition to the hygienic aspect, we want to focus more on the craft and create a more uncomplicated and cozy atmosphere in which you should feel comfortable. It is up to you which and how much cutlery you want to use for the gourmet menu.
Family Dinner from 6.00 pm. to 8.00 pm.
Relax Dinner from 8.00 pm. to 10.00 pm.