Your hiking-biking-swimming-wellness-golf adventure and gourmet vacation.
Next summer the world looks already different. Greener, fresher, freer. May we expect your vacation dreams? Because summer in the Zug Valley is made to blossom.
It's only a few steps from the hotel to Austria's highest golf course, and the cable cars, chair lifts or Rent-E-Bikes offer easy access to Lech's 250 km of marked hiking trails. And there is also plenty of room to enjoy afterwards.
Hiking
You'll experience a dream-like hiking holiday where there are 250 km of signposted hiking trails right on the doorsteps of Rote Wand Gourmet Hotel.
In your hiking and gourmet hotel Rote Wand, the dream of the perfect hiking holiday simply comes true. Because hiking on the Arlberg or, more precisely, in and around Zug / Lech you are guaranteed a unique performance by the nature around you. And you're in the midst of it! If you want to explore the Arlberg hiking region on your own, a fantastic system of gondolas and chair lifts as well as a hiking bus provide comfortable transport between the various legs of the hiking trails. And at various points on the 250 km of signposted hiking trails in the Lech Zürs region, there are many huts to stop and spend some time.
The Green Ring is a particularly worthwhile circuit, especially for families. This hiking tour in three stages awakens the myths and legends of the Tannberg region and is entertaining even for older children. This marvellous trail for discovering the fascinating mountain world in the Zug / Lech and Zürs hiking region is also a treat for adults.
Whether guided tours or on your own: the main thing is that you experience how wonderful a hiking holiday in Zug / Lech am Arlberg can be!
Golfing in Lech am Arlberg
An impressive mountain backdrop, mountain air that is fresh and clear – in the form of Lech Zürs golf course, one of the loveliest and highest situated golf courses in the Alps has opened.
With PAR 66, the interesting nine-hole golf course offers you plenty opportunities to prove yourself. The holes are designed such that you have to play across the River Lech several times. Whether you are a rookie or a professional, the handicap-effective nine-hole golf course, which covers 19 hectares, will fire you with enthusiasm.
Do you wish to participate in a golfing tour during your holiday at the Rote Wand? Within a radius of only 65km, you can play on any one of three further charming 18 and 9-hole golf courses.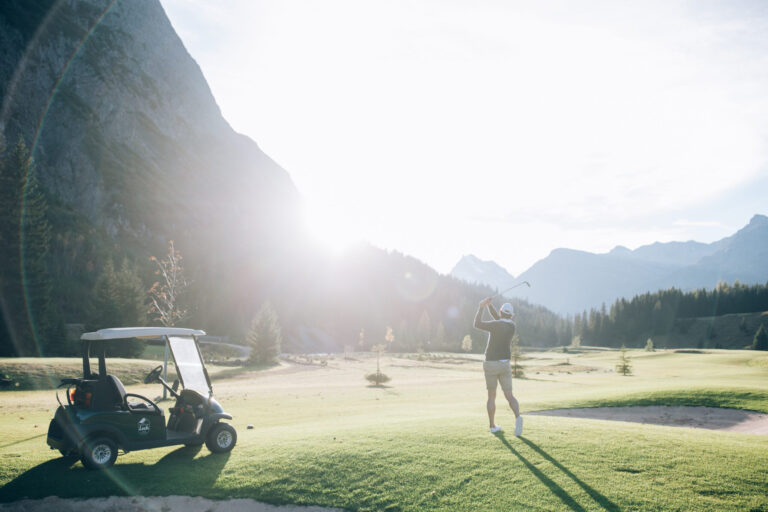 Fly-Fishing
Steep gorges, fast-flowing water and deep puddles. Shielded by lofty fir forests, the River Lech – not far from the Rote Wand – reveals its character as a true paradise for river trout, lake trout, rainbow trout, char – as well as for fly-fishers!
Your guide Toni Grissemann, who knows the area like the back of his hand and has years of experience under his belt, takes you through the elementary paradise for fly-fishers. Discover the best spots on the 14km-long stretch of the river and find a sense of relaxation and harmony in this, the loveliest way to fish.
Please note: the village of Lech only issues five day tickets for fly-fishers per day for this fishing ground. For this reason, please ensure you reserve in time.